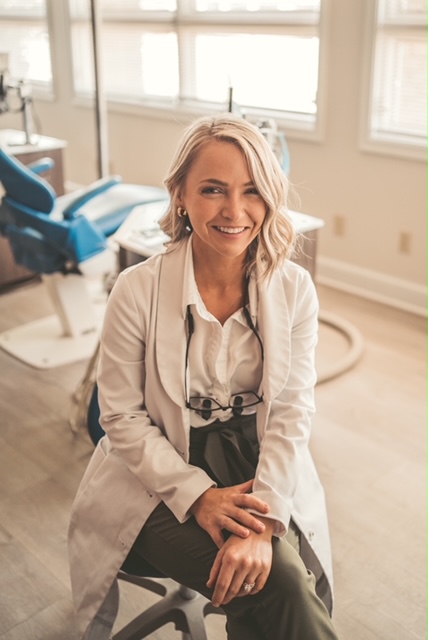 Meet Dr. Lindsay Thorn!
Dr. Thorn was born was born in Salem, VA and went to Salem High School. She graduated high school with IB certificates in Art and in the Sciences. She then attended Virginia Tech where she majored in Chemistry with a minor in French. She rode on the dressage team at Tech and continued to pursue art in her spare time. After graduating Summa Cum Laude with a Bachelor's degree in Chemistry from Tech, she moved to Nashville where she studied SARS-Coronavirus, yes…COVID!, at Vanderbilt University. There, she earned her Master's degree in Microbiology and Immunology. During her time at Vanderbilt she taught MCAT classes part-time for The Princeton Review, and she also taught ACT prep at several underserved high schools in the city.
Dr. Thorn attended dental school at the University of Alabama at Birmingham, where she graduated 8th in her class and earned several outstanding graduating senior awards. She sought mentorship from several pioneers in the field of dentistry, and she continues to seek input from many of those individuals. Her goal is to learn from the best in the field and find ways to implement that knowledge in her own, creative way. She has a strong drive to continue her education, and she pursues hundreds of hours of continuing education each year. During the COVID shutdown, she focused her education on the connection of oral health to overall health and wellbeing. Post COVID, she's spent a considerable amount of time learning about the connections between bite (occlusion), TMJ disorders, sleep disordered breathing, and quality of life. She has also recently become a member of the Crown Council, which is an elite group of dentists across the country focused on sharing, learning, and cultivating the best outcomes for patients and team members.
Dr. Lindsay Thorn is married to Brad Thorn, and they have a family of pets: 2 dogs, 1 cat, a horse, and a turtle. If it was up to Dr. Thorn, they would come home with an adopted pet every time they went to PetSmart! She enjoys riding horses and competing in eventing competitions with her friends at Simms Eventing.